Remember the old saying "there are many fish in the sea"? Well, that saying also applies to the number of applicants to potential internship sites, and it can sometimes make an applicant feel overwhelmed and anxious.
It is no surprise to those in the psychology field that there are many more applicants than there are internship placements. This is a discouraging fact that has been present for some time now. Although the gap continues to decrease and the field of psychology continues to find creative ways to lessen this gap, the fact remains that it is all the more important to learn how to better market and sell yourself to potential internship and training sites.
When you are competing with a large applicant pool of those with similar educational backgrounds who all have excellent qualities and abilities, the perception that potential supervisors and directors of training sites have of you can make or break your opportunity of being placed. For those who specialize in a field that focuses so much on helping others, it can sometimes be awkward – and even uncomfortable – to shift that focus to ourselves and market our strengths and abilities. Below are five tips to ensure you are putting your best foot forward and highlighting why the sites you are interested in should be just as interested in you.
1. Try New Things
Be open to trying new experiences early on in your education.
For example, try volunteering for local agencies or getting a part time job within different settings in the field of psychology. It is important to try out as many options as possible in order to discover what type of placements and clientele you enjoy working with most. This can also assist you in learning about your key skills and strengths.
In addition, pay attention to what fields or clients may not feel like good fits for you, and take note of any areas you feel that you have a lot of room to improve in – focusing on your growth in these areas can benefit you immensely.
New experiences will offer you valuable skills that you can further hone during your internship. They will also give you a wide variety of knowledge – knowledge that internship supervisors and directors at different sites could be looking for in applicants – as well as helping to you stand out from other applicants by making your background more diverse.
2. Be Open
It is important to be "open" throughout your career with your peers and supervisors, in both educational and professional settings. It shows that you can communicate well and work well with others.
For the APPIC internship match, this means being open on internship site applications, during interviews, and during placement. The more open you are, the more you have a chance to build yourself up as a strong clinician, researcher, and student.
The strength that comes from being more open is what makes individuals stand out with internship site supervisors, directors, practicum supervisors, and professors who will be writing letters of recommendation. The more you stand out, the more you will pique the interest of internship supervisors – and the more you pique their interests, the more they will want to meet with you, which will come in the form of an interview offer.
3. Get Out of Your Comfort Zone
If possible, increase your search via geographical location, site setting, population, or job requirements. You might not land the "perfect" internship site you had in mind, but that does not take away from the experience.
There are many interns that have learned much more about themselves and their skillsets after being pushed out of their comfort zones. Even if you learn that a certain type of setting or population isn't your "cup of tea", that information by itself is very powerful and useful to know.
In addition, these challenging and intimidating experiences can help you to grow both personally and professionally as you overcome them. And, finally, the courage to challenge your comfort zone and go beyond your boundaries gives you a distinct experience that you can use to highlight skills in future job interviews or reflect upon when forming career goals.
4. Discuss Accomplishments…But be Humble
It takes practice and finesse to be able to highlight your strengths and selling points without coming across as arrogant. Use opportunities leading up to the time of internship interviews to try different approaches in talking about yourself.
Here is a list of some opportunities that can help you to practice that balance of communicating your finer qualities while remaining approachable and humble:
Attend networking events within your school or local professional affiliations and try your approaches with the other attendees.
Practice at job interviews or practicum placement interviews and take note of what seems to work (and what doesn't).
Try out new approaches with classmates, professors, and when meeting new individuals.
There are multiple ways to identify which skills or accomplishments you should talk about as well as how you should talk about them.
Think about things you feel you are good at or enjoy doing, and use past evaluations from supervisors at practicum sites or jobs as guidance. Tailor the way you communicate your accomplishments based on the sites you are applying to. Identify one or two ways that you feel make you stand out from your peers. Then, make sure you can explain why this skill or accomplishment makes YOU an asset to an internship site.
One effective approach can be to use a story or concrete example that demonstrates how your unique quality, talent, or skill has assisted you in the past and how you foresee it assisting you at your internship placement.
5. Lastly, BE YOURSELF
You are going to be nervous and overwhelmed within the interview process, but remember: this is normal.
Stay composed and be confident, but allow interviewers to see who you are as a person and why you will fit in well within the company, setting, population, and (most importantly) those who will be overseeing and supervising you.
Supervisors and directors want an intern whom they feel they can work well with for the upcoming year. Your relationship with them will last a good length of time and it will be a close and collaborative one, so it is important to let your true self shine through.
By being more natural and at ease with yourself, you can even help the interviewers become more comfortable and relaxed during your interview as they pick up on your emotions. Relieving tension in the room by being genuine can also help you to better relay your answers in a clear and concise manner.
Make these tips your own: Find ways to adjust them or combine them to reflect who you are, what is important to you, and what situations you are in.
And remember: Don't Give Up.
The large sea of APPIC applicants and internship sites can be very intimidating, but if you just keep swimming, you will eventually be hooked.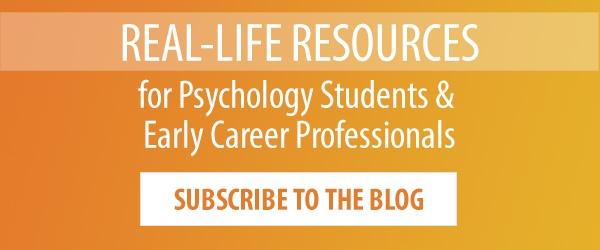 Christina Wohleber, Psy.D. received her doctorate in clinical psychology from Immaculata University in Immaculata, PA. She is currently a clinical supervisor of several behavioral health programs within the same community mental health agency where she completed her pre-doctoral and post-doctoral internships. Dr. Wohleber enjoys working with children, adolescents, and adults who have experienced severe trauma histories and/or attachment issues, as well as conducting evaluations for children and adolescents to determine appropriate levels of care. In addition, she loves to supervise masters and doctoral level interns to assist them in navigating the complex world of community mental health within the Philadelphia area. She is a proud member of both the American Psychological Association and Pennsylvania Psychological Association. When she is not working within the field of psychology she enjoys spending time with family and friends, cooking, and completing arts and crafts as a means to practice self-care.
Latest posts by Christina Wohleber, PsyD (see all)