I will never forget the sleepless, nail-biting anxiety I experienced the night before APPIC Match Day.
After I matched, sighed with relief, and felt my heart rate return to normal, I'll admit that I was a bit amazed to see that life simply went on. I finished my coursework and made arrangements to move to another state to begin the transition from graduate student to fully functioning clinician.
The internship year has proven to be as transformative as I'd anticipated. I have sharpened my clinical skills, taken on supervisory, leadership, and managerial roles, and gained confidence.
More importantly, I found the advantages of being in professional "limbo;" functioning simultaneously as student, trainee, clinician, supervisor, manager, and consultant has given me license to network with anyone whose job entails some aspect of learning, teaching, counseling, or training.
Admittedly, I learned to network as an intern through trial and error. Being a great Monday morning quarterback (aren't we all?), I can offer the following strategies for a networking game plan that will lead you from the internship to your dream job:
1. Network "Within" Yourself
Before you begin the position, take some personal inventory. What draws you to people, and what do others enjoy about you? Which of your strengths lend themselves to forming new relationships?
Conversely, who intimidates you? What situations do you dread? Which personality traits do you experience as totally off-putting?
Networking "within" yourself can help you to mentally strategize. If you are a social butterfly, you'll have no problem showing up on the first day and asking colleagues to join you for lunch, or tagging along when invited. If you despise moving through crowds, it won't be realistic to plan on making contacts at a large conference. If you have a long commute or family waiting at home, you likely won't be staying late at the office to get to know coworkers.
Pay attention to and respect your personal networking parameters. Forcing yourself into miserable situations may lead to suppressing your grouchiness in order to feign interest. People tend to pick up on this attitude, and honestly, nobody wants the reputation of being an inauthentic therapist! Approach networking with energy and intentionality, and it will show.
This does not mean that you don't need to push yourself outside of your comfort zone; it means that you don't want to unnecessarily force yourself into situations where you won't be your most effective self. There will certainly be times when you must exchange pleasantries with a difficult colleague, or attend a meeting that bores you to tears. As a trainee, you are still being evaluated, and that might mean biting your tongue. However, if you are secure, flexible, and willing to learn from your experiences, these situations will be few and far between.
2. Be Realistic and Strategic
Identify your "niche" areas and seek out professionals who can help you further those specialties. Whether it is more experience with a specific population, diagnosis, or treatment modality, be prepared to ask for what you need.
One of the purposes of the internship is to fill in what you perceive to be "gaps" in experience standing between your current clinical competence and your ideal future position. Consider what that ideal position might be, and look for the individuals with whom you might connect in your quest for that position.
If you are a passionate advocate for a particular cause, participate in rallies, fundraisers, and volunteer opportunities supporting that cause. Attend events that pique your curiosity. While there, demonstrate your enthusiasm, and exchange contact information with everyone you meet.
For instance, if you are committed to treating patients with dementia, you'll likely find excellent networking opportunities at an Alzheimer's awareness event. Assume that everyone you meet at these events, no matter their line of work, has the potential to serve as a consultant down the road.
Make social media part of your strategy. It is the easiest networking tool out there. You can literally hang out in a bathrobe and slippers with your cat in your lap while you network. Maintain a professional presence online through LinkedIn, Twitter, or Facebook. Join online groups and forums, and share content that will further your professional reputation, such as news articles related to your clinical and research interests.
3. Be Creative
Look for creative ways of filling the needs of your internship site. Find places where your career interests overlap with the services you are already providing.
For instance, if you hope to specialize in treating chronic pain, you may utilize an internship in substance abuse treatment as an opportunity to learn more about the relationship between chronic pain and opioid dependence. This was the case for me. I learned that my agency wanted more specialized programming for opioid-dependent clients, and I was able to enlist a colleague to join me in developing and co-facilitating a group curriculum to address this need.
There are networking opportunities in consulting with primary care providers, physical therapists, or practitioners of alternative treatments. These professionals can provide expertise on effective interdisciplinary interventions.
At the end of the day, finding creative places of overlap helps you to further your own career, improve quality of care for your clients, enhance the services your site provides, and establish professional relationships that may one day become referral sources.
Additionally, there are ways in which your self-care activities can provide networking opportunities. An interest in chronic pain might lead to networking opportunities when you join a yoga studio, treat yourself to a massage, or visit a chiropractor. The practitioners you'll encounter in these settings may provide you with fresh, creative ways of thinking about how to best help your clients.
4. Avoid Drama and Stay Out of Office Politics
When you are working in an agency, there will inevitably be organizational flaws and power dynamics to navigate. Do so mindfully, and respect the site's expectations for its interns.
It may be difficult to balance authenticity and discretion, so use this year as a time for developing your professional "filter."
Oftentimes, agencies have a set of cultural norms that can include cliques, unspoken social hierarchies, or unequal distributions of power. Try to stay focused on your long-term career goals, and avoid gossiping or bad-mouthing the site.
For instance, if you have a condescending colleague, find ways of getting support that do not include venting to your fellow interns about how you can't believe the agency would hire someone so rude. If something really is unethical or outrageous, seek consultation through safe and appropriate channels, such as with a trusted supervisor or your program's training director.
Otherwise, simply treat this year as a chance to gather data on how systems behave or misbehave, and take notes on what you want to remember for your own development as a leader.
5. Don't Go off the Grid
If you are relocating for your internship, it can be especially tricky to immerse yourself in the internship experience while remaining connected to those who helped you along the journey. Even if you're not halfway across the continent from your graduate school program, it can be easy to mentally "check out" from your previous routines as a student, and to lose touch with people you were accustomed to seeing regularly.
While there are many new connections to make, it is equally important to retain the professional relationships you have developed thus far.
If you are still living nearby, invite a former supervisor, colleague, or professor to get a cup of coffee. If you've relocated and you come back to town for a weekend, plan to build in some networking time. Make the effort to reach out to your mentors, update them on how the year is going, and enlist their help in figuring out your post-internship plans. Invest in these relationships. Use them as sounding boards and ask for some guidance. Perhaps they can help you mount the next stepping-stone in your career path.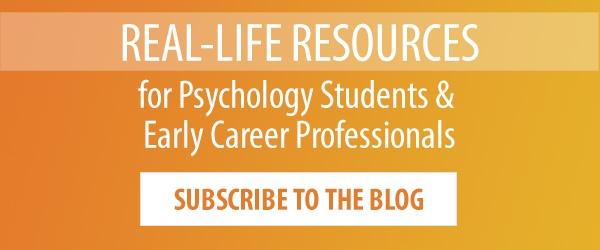 Paula Freedman is completing her doctorate in clinical psychology and will graduate from Adler University in October of 2015.She is looking forward to establishing a career in socially-responsible clinical work and advocacy.Her clinical interests include substance use disorders, behavioral addictions, anxiety, and intergenerational transmission of traumatic experiences. Both in her professional world and her personal life, she enjoys exploring how the mind and body influence one another.
Latest posts by Paula Freedman (see all)